Pest Control and Covid 19
Pest control is more important than ever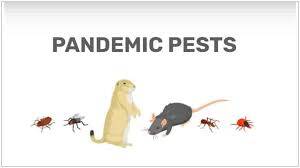 With today's pandemic going on, we are seeing more pest than ever. Pest usually have food giving to them through leftovers, but now that we are gone due to lock down…it's a more complicated game.
Pest Control Technology magazine published an article stating that more pests have been sighted more than in the past. Places like condominiums, apartments, and even restaurants have seen a 34% spike in pest sightings. That number may get even higer as the next lock down is looming in the future due to the pandemic.
What's with the increase all of a sudden? Truly Green Pest Control experts agree that the stay-at-home order means more food around your home and less food around the restaurants. More food around your residential home due to more garbage, and more garbage will mean more pest such as rodents, roaches and other wildlife.
As I write this story, the weather is quite cold. The rodents will try to enter your home. This happens every year, however, this year has a factor that cause more activity. The pandemic. Food is scarcer and the rodents know where to go. And so do Truly Green Pest Control. That's why selecting the correct pest management professional is more important than ever before.
The COVID-19 pandemic has forced the closure of hundreds of restaurants, food processors and other businesses nationwide. As weeks went on, increased rodent activity plagued many businesses, some of which has been attributed to a change in food sources and availability—so much so that the CDC released a warning about rodent control in restaurants and other commercial businesses that have either been closed or have had limited service during the pandemic. "Environmental health and rodent control programs may see an increase in service requests related to rodents and reports of unusual or aggressive rodent behavior," the CDC stated last month.