Pest Control in Overland Park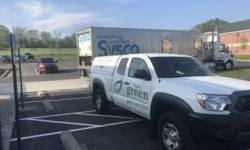 Overland Park is a vibrant and thriving city located in the state of Kansas, USA. As of my last knowledge update in September 2021, it is the second-largest city in Kansas and is part of the Kansas City metropolitan area. Known for its high quality of life, excellent schools, and robust community services, Overland Park has become a popular destination for families and professionals alike.
If you live in Overland Park, you know how annoying pests can be. They can ruin your lawn, damage your property, and even spread diseases. That's why you need pest control services from a reliable company. Pest control in Overland Park can help you get rid of unwanted insects and rodents, and prevent them from coming back. Whether you need termite treatment, bed bug removal, or rodent control, we have the right solution for you. Contact us today and get a free estimate for your pest problem.
Our professionals in Overland Park shield you against:
Wasps and bees

Flies Termites

Fleas

Silverfish Centipedes

and more!
Natural pest control for family and pets
Truly Green Pest Service is a company that provides residential pest control services. They use natural and organic methods to eliminate pests such as ants, spiders, roaches, bed bugs, rodents and more. They also offer prevention and maintenance plans to keep pests away from your home. Truly Green Pest Service is committed to protecting your family and the environment from harmful chemicals and pesticides.
You will get the following benefits from working with us for Overland Park pest control:
Professional, state-certified assistance from a member of our team.

a complete examination of your home is conducted in order to assess the infestation and choose the best course of action.

Professional pest control will thoroughly eradicate any pests that may still be present in your home.

Organic interior and exterior treatments to ensure pests stay out of your home.

Protection throughout the long run with repeated treatments.
Our Guarantee is Your Satisfaction
We take great pleasure in our expectation to continually provide top-notch service for your complete satisfaction. We provide same-day treatment and Saturday service in an effort to work around your schedule as much as possible and make sure you receive the care you need. 
Treatment for Termites in Overland Park
An infestation of termites is costly for both your house and your cash. Termites are constantly active, gnawing away at the foundation of your house and creating expensive damage since they don't sleep Fortunately, Truly Green Pest Control provides termite treatment that gets rid of current termites and stops them from getting back into your house.
Our termite specialists treat your house for both existing infestations and any future ones. Using the Term-Alert Termite Protection System, we provide long-term protection for your house. You won't need to be concerned about more infestations in the future thanks to this cutting-edge system's tamper-resistant technology!
When you choose us for termite control in Overland Park, we will:
To determine the amount of your existing infestation, thoroughly inspect your property.

To prevent termites from entering your home, install bait systems around the exterior of the building.

To guarantee that termites are entirely eradicated, keep a close eye on their activity.

In the odd event that termites return to your home following our service, we will re-treat without charge.

Learn what do termites look like?
Treatment for bed bugs in Overland Park
You may be familiar with the infamous adage, "Sleep tight." Try not to get bitten by bedbugs. Unfortunately, worrying about bed bugs makes it difficult to get a good night's sleep, especially if you know for a fact that they are present in your house. We provide bed bug treatment in Overland Park to keep you and your loved ones safe.
Guaranteed Eco-Friendly Bed Bug Treatments
Get rid of bed bugs with our safe and effective solution. Our treatment uses natural ingredients that are harmless to humans and the environment. No chemicals, no toxins, no worries.
You can expect the following when you work with us for Overland Park bed bug treatment:
Our trained staff will do thorough inspection that will find all bed bugs hidden in your home.

eco-friendly remedies that successfully get rid of all bed bugs.

Getting rid of bed bugs in no more than four hours.
Rodent Control in Overland Park
If you have a rodent problem in your home or business, you need a professional pest service that can handle it effectively and safely. Truly Green Pest Service is your best choice for rodent control in Overland Park. We use eco-friendly methods and products that are safe for you, your family, and the environment. We also offer free inspections and estimates, so you can trust us to provide honest and reliable service.
You can anticipate the following when you work with us for Overland Park rodent control:
a complete examination of your house to find pest entry points and infestation hotspots.

Family-friendly remedies to get rid of the rodent infestation in your home.
the use of organic materials, baits, and traps to stop further infestations.
Expert exclusion services are used to close any entry points.
At Truly Green Pest Control, we're sure that our professional service will meet your complete satisfaction. Rats, mice, and other rodents, both tiny and large, are eliminated by our rodent exterminators using organic materials. After your initial treatment, we'll not only inspect, treat, and check on the traps; we'll also perform rodent exclusion work to stop future infestations!
Wildlife Control in Overland Park
Outside, it's entertaining to see animals like raccoons, opossums, and squirrels while keeping a safe distance. Finding these animals inside your home is less enjoyable. They can make you feel uneasy in your own space, spread infections, harm your belongings, keep you up at night, and keep you awake. Fortunately, Overland Park has wildlife control services available. We at Truly Green Pest Control provide quick, efficient relief from wildlife problems while avoiding further infestations.
When you work with us for Overland Park animal control, we'll
Perform a preliminary inspection to determine the species of animals present and their hiding places.

Install humane traps so we may remove wildlife from your property in a secure manner.

Remove any evidence of wildlife, including droppings, food containers, nesting materials, and other debris.

Eliminate access sites to prevent more infestations.

To confirm that there are no animals within your home, come back for a follow-up examination.

Use remedies that are safe for the whole family and protect your home.
Contact us today for overland park pest control.