Black Widow Spider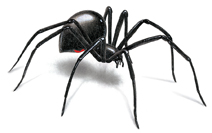 The black widow spider is a venomous arachnid that belongs to the genus Latrodectus. It is widely distributed in temperate regions of the world, especially in North America, where it is known for its distinctive red hourglass-shaped mark on the abdomen.
The female black widow spider is larger and more dangerous than the male and can inject a potent neurotoxin that can cause severe pain, muscle spasms, nausea, and in rare cases, death.
The male black widow spider is smaller and has a pair of red spots on the abdomen. The black widow spider usually feeds on insects, but sometimes preys on other spiders or small vertebrates. The black widow spider is not aggressive and only bites when threatened or disturbed.